When you heal a woman, heal a mama, you heal 7 generations before and after her. I had heard this saying many years ago and never really understood it until I became pregnant with my son.
I had a challenged childhood and didn't have a good relationship with my mother. Even though I thought I wanted to have children and be in a committed relationship, I was concerned that I would fail at both. I have an insecure attachment style and now I know it is from my mother not having the support she needed after she gave birth. I knew I had to do a lot of healing to be a good mother and really had no idea what that meant until I discovered Ayurved Sadhana.
When my son was born, I did what most moms would do; we had guests around all the time, I barely slept, and I began running 5 miles a day at 12 days postpartum! I felt great for the most part and though I felt extremely energized and happy, I had no idea that I could be setting myself up for hormonal imbalances. It was the following December that I revisited my vision board I had created and noticed that everything on that board came to fruition except going to ayurvedic school, which I had planned for before getting pregnant. I did a quick search for programs outside of work hours and came across Ayurved Sadhana, emailed them and got a reply back a few hours later that I could sit in on a postpartum cooking class the following day.
The school was only 20 min from my home and was in a home like a traditional gurukulum. I was immediately welcomed in and offered chai and learned about delicious recipes postpartum mothers should eat. I felt the warmth of the students and the teachers. The next day the program director emailed me to see if I would like to be a model for a postpartum abhyanga and if my baby would like to be the model the baby massage. I went home that day knowing I needed to start at this school and that everything was happening in its due time. I had lived in India in an ashram for over a year and had never considered the impact Ayurveda would have on preconception, pregnancy and postpartum. I started the Ayurdoula program a few months later when I became pregnant with my daughter.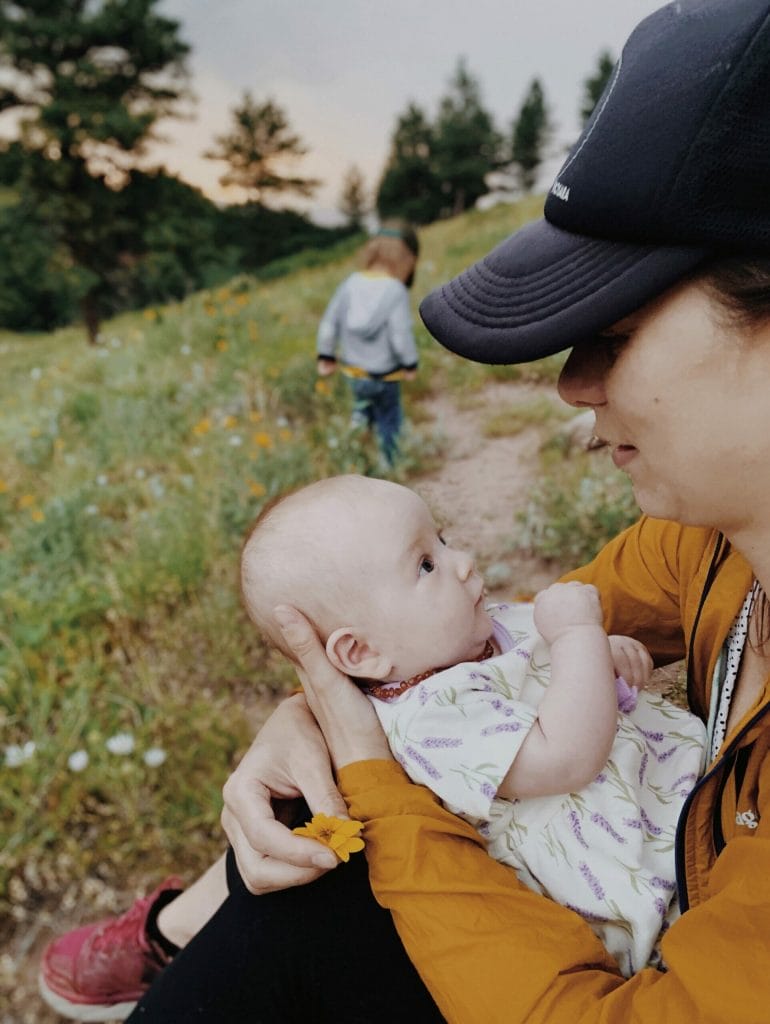 Having gone through the program, I so very much see that Ayurdoula work is so necessary. There are plenty of people who will help you with your baby, but who is going to take care of you after you give birth? The three pillars of Ayurdoula are rest, nutrition and abyangha. An ayurdoula helps mama and family with these three pillars especially in the first 42 days postpartum, when the vata dosha is very high and the veil is thin. When a mother is not nourished and vata is kept high and agni is low, postpartum anxiety can set in and then issues between the mother, partner and child can be created. This is the work that that is needed to ensure that there is a secure bond within the family and that good digestion is formed from the beginning. In Ayurveda we say all disease manifests from poor digestive fire.
After giving birth to my second, our family ate ayurvedic nourishing meals with plenty of heating herbs and spices, kept visitors to a minimum and I had lots of time for abyanghas. I waited 42 days before running and made sure I did things slowly this time. What I have learned through this program has been foundational to how I raise my kids and care for myself. Their diet is one in which I hope their digestive fire will be strong and therefore have a strong immune system. I've taught them the importance of self care in that they both ask for massages when they want one, but we give oil massages often in the vata season.
I truly believe that if we want to impact the world, we need to ensure that each and every mother is given a chance to heal from generational burdens and be cared for to have a proper secure bond with her child. We need a future of secure children.
SIGN UP TODAY FOR AYURVED SADHANA NEWSLETTER!
Get information to support your Ayurvedic lifestyle! Ayurved Sadhana will continue adding more blogs, herbs, health tips and recipes through Facebook and Newsletter below. If you have any questions, please send email to info@ayurvedsadhana.com
CHECK OUT OUR OTHER BLOGS:
All rights reserved by Ayurved Sadhana Vidyalaya,Dr. Bharat Vaidya and Anupama Vaidya. Do not distribute or publish this material.